Brackish water shrimp VietGAP how to sustainably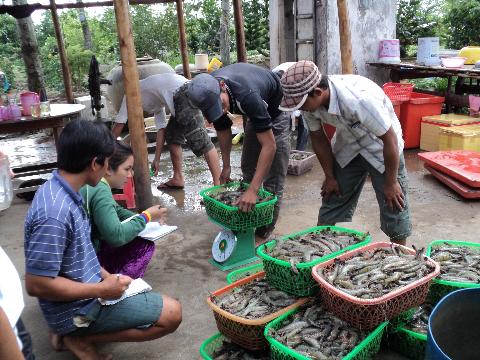 Brackish water shrimp farming VietGAP standards. Illustration
According to the appropriate Certification Center - Directorate for Standards and Quality, under market pressure, Vietnam needs to develop technical solutions to safety in animal and processed shrimp products, the application of the advanced farming technology to achieve the "shrimp" food safety in order to create sustainable export markets and stable.
To meet the needs of the Ministry of Agriculture and Rural Development issued a Code of practice good aquaculture in Vietnam (VietGAP). This is a normative good manufacturing practice is based on four basic criteria is to ensure safety of epidemics, environmental safety, social security and access product origin.
More and more consumers have trusted the brand items and ensure food safety, but even the seafood products in major supermarkets in Vietnam have not been mounted stamps, labels, Packaging orthodox, were not disclosed on the process quality control to traceability of origin. So the propaganda to farmers applying VietGAP standards ensure quality not only food safety for consumers, but also to ensure profits for producers and gradually build brand Vietnam's agricultural products in the hearts of consumers in the country.
Currently the Prime Minister signed the decision 01/2012 / QD-TTg on "some policies to support the application process agricultural practice good in agriculture, forestry and fisheries", according to which, the Government will support 100% funding of baseline surveys, topographical surveys, analysis of soil samples, water samples, air samples to determine the areas of focus apply VietGAP, support does not exceed 50% of the total capital construction and renovation of roads, irrigation systems, pumping stations, low voltage ... With this support, costs will apply to VietGAP much lower compared to the previous standards Here, to facilitate the shrimp farmers towards sustainable production.
Although there are many practical benefits and the support of the government, but the implementation of standards in brackish water shrimp VietGAP faced many difficulties. VietGAP has not been internationally recognized, while the shrimp are raw materials mainly for export processing, furthermore the voluntary certification standards other reputed as BAP, GlobalGAP, ASC is next Fierce so farmers have not applied VietGAP boldly.
According to the Ministry of Agriculture and Rural Development, the current aquaculture industry of Vietnam mainly exists in the form of small farmers to irrigation systems, ponds, settling ponds not meet the requirements; farmers often have small volume, cost consultancy, certification VietGAP tonnes product per head will be high while product prices increased slowly after certification.
Although the building is difficult VietGAP initially, but VietGAP development remains essential to have the brackish water shrimp farming sector in particular and Vietnam in general agriculture. Must strictly observe the requirements of sustainable development VietGAP to shrimp farming, raise the prestige of the brackish water shrimp on the market, reduce risk and improve economic efficiency for farmers.
Brackish water shrimp VietGAP how:
- Promote technical diplomats to create trust and recognition VietGAP standards on the world market, making possible VietGAP par and benchmarking with GlobalGAP standards, ASC ...
- Have specific circulars decision 01/2012 / QD-TTg to create favorable conditions for implementing support to the medium-sized producers, and motion linking small farmers produce quantities large enough for the application VietGAP;
- There is a legal framework and investment incentives built breeding area synchronous infrastructure farming areas (irrigation, drainage canals, ponds system, filtering, waste disposal) , monitoring systems, environmental warnings, disease prevention;
- Training and technical staff have the capacity to participate in counseling, assessment and certification VietGAP to ensure the quality of the application and certification VietGAP;
- To deliver reasonable support for the consumption of the product is certified, to make a difference in price for products certified to attract farmers to apply VietGAP standards.